Athens Community
Theater


> T&G Home Page
> The Envoy Newsletter
> Main Stage
> Second Stage
> Ticket Purchasing Info
> Season Ticket Info
> Giving
> Membership Info
> Volunteer
> Calendar
> About Us
> Photo Albums
> Links

> Board Members' Section

Our upcoming Mainstage shows...
---
Mainstage Season Presents ...
Now Playing!
See How They Run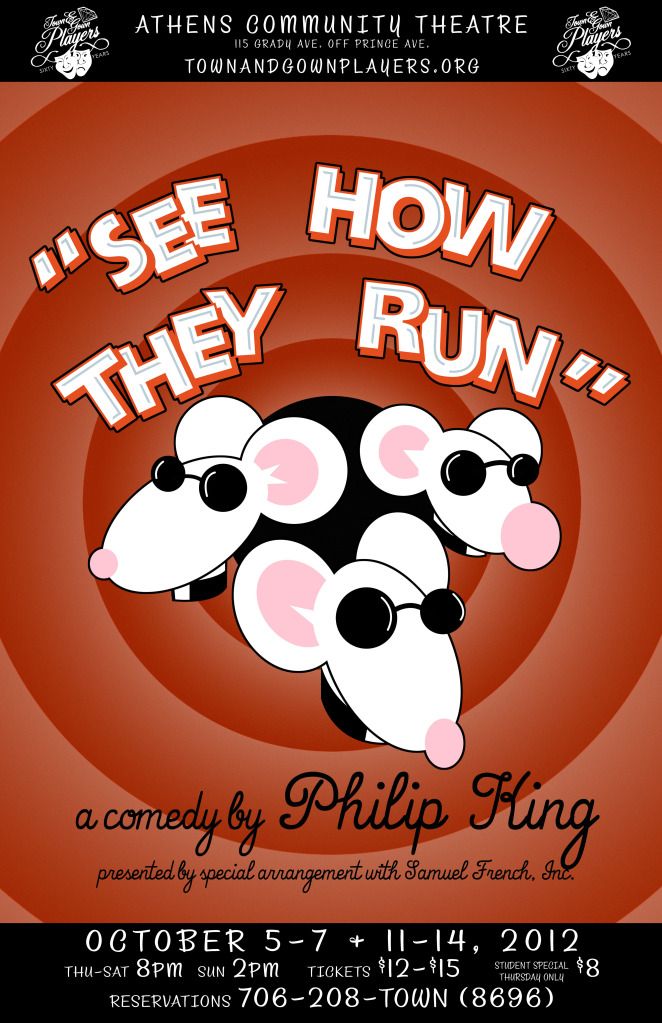 Written by Philip King
Directed by Rebekah Williams

Playing October 5 through October 14, 2012


Set in the idyllic village of Merton-cum-Middlewick in 1940s England, the village inhabitants are preparing themselves for the imminent threat of Nazi invasion. Resident nosy-parker and spinster, Miss Skillon, becomes convinced that her beloved vicar's actress wife is having an affair and attempts to expose her. Add an escaped Russian prisoner of war, a handsome actor, the visiting Bishop of Lax, a rotund locum priest and some meddling neighbors and hilarious confusion and mayhem result.
The Cast:

Ida (a Maid): Elizabeth Day
Miss Skillon: Kelly McGlaun-Fields
The Reverend Lionel Toop: Patrick Hooper
Penelope Toop: Asia Meana
Corporal Clive Winton: Briton Dean
The Intruder: Daniel Cutts
The Bishop of Lax: Murray Weed
The Reverend Arthur Humphrey: Todd Curless
Sergeant Towers: Tyler Dain